The Cape of Storms lives up to its name once again. I was on my way to work yesterday morning when I heard on the radio that a large ship had run aground during the storm the night before at Bloubergstrand, which is 5 minutes away from where I live. I was tempted to turn around to go and look at this (semi)rare event, but realised that it would have made me very late for work.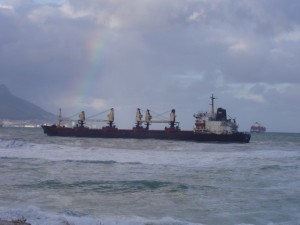 I did get some nice photos of the wreck from Claudia, who had time to go and have a look.
What had happened is that the coal carrier was anchored in Table Bay, apparently awaiting engine repairs, when a fierce storm struck on Monday night, with gale force winds.
Waves were apparently breaking over her bow, and when the ship's anchor cable snapped, the ship was forced onto the beach.
By the early hours of the morning the 25 Turkish crew had been rescued by the NSRI, but the ship itself is another matter.
By the time I left work, I stopped at the beach on the way, and the ship was still exactly where it had been beached. It is such a delightful sight (in a rather macabre way) to see this huge hulk so close to the shore. It looked like half of Cape Town turned up to see it too, as the beach was thronged with people catching a view of the ship, and taking countless photos.
The main concerns of the salvage operations now is getting the coal and fuel off the ship before it pollutes the surrounding area if the ship breaks up, but for me, I am rather a bit more curious as to how they are going to get rid of this beast…